Contact us
Our postal address is:
Fundación para la Difusión de la Lengua y la Cultura Española
Calle Dos de Mayo, nº 16
(Pasaje de la Marquesina, edif 19)
Valladolid 47004. EspañaTel. +34 983 150 114
---
ATENTION
For any queries about BECAS/SCHOLARSHIP 2017 click on the banner bellow to be redirected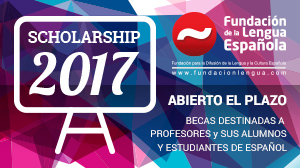 ---
You may send us any question or suggestions by filling in the following form.
Submitting this form implies acceptance of these terms of use: As is established by Organic Law 15/1999 for the Protection of Personal Data, we inform you that your personal details will be treated in an comptuterized way to answer your request. In order to access, rectify, cancel or oppose these data, you may contact the person responsible for the file at the, Fundación para la Difusión de la Lengua y la Cultura Española (Spanish Language Foundation), at: Calle Dos de Mayo 16 – Pasaje de la Marquesina, 19 - 47004 – Valladolid (Spain)..