José Luis Orihuela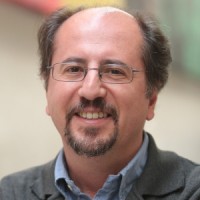 José Luis Orihuela es doctor en Comunicación Pública (1993), Licenciado en Ciencias de la Información (1990), Máster of Arts en Periodismo (1989) y Miembro del Programa de Graduados Latinoamericanos (1987) de la Facultad de Comunicación de la Universidad de Navarra (Pamplona, España). Graduado en Periodismo por el Colegio Universitario de Periodismo de Córdoba, Argentina (1986).
También ha realizado cursos de actualización profesional University of California, Los Angeles (Summer, 1997).
Es profesor en la facultad de Comunicación de la Universidad de Navarra, y ha participado en diversas actividades profesionales, como conferenciante y profesor invitado, en numerosos países. además forma parte del consejo editorial de Perspectivas de la Comunicación, del comité editorial de Comunicación y Sociedad y colaborador de ABC.es.
Orihuela es autor de La revolución de los blogs (2006) y coautor de Blogs (2005), Comunicar para crear valor (2004), El futuro de la televisión en España (2000), Introducción al Diseño Digital (1999), Quién cuenta la historia (1999) y Estrategias de marketing de las empresas de televisión en España (1997).
Desde 2002 escribe en el blog eCuaderno (www.ecuaderno.com), uno de los más leídos en lengua hispana, y desde 2007 es usuario activo en Twitter (@jlori).
Su trayectoria ha sido reconocida con varias distinciones, como el Premio Europa (1990), y el Premio Extraordinario de Doctorado (1993); además de ser finalista en los Premios Anuales de la Asociación Usuarios de Internet (AUI) 2005 en la categoría Periodista español que durante el año, haya aportado más a la difusión sobre Internet.
Orihuela fue incluido en el International Who´s Who of Professionals desde 1999 y en la Guía de Expertos Españoles (Internet) de RedIRIS-MMLab desde 2001, y declarado Huésped de Honor de Cartagena de Indias.
También ha formado parte del jurado internacional de los premios anuales Deutsche Welle International Weblog Awards (2004), y presidió el jurado de los Premios Navarra Gourmet a los Mejores Blogs Gastronómicos (2009).
---