Tapas!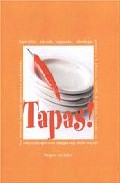 leading article: Miller Books
ISBN: 9789087240523
Nº of pages: 176
Publication year: 2008
Colection: Miller Books
Tapas are an integral part of daily life in Spain. These small dishes embody the belief that there should always be time to enjoy good food in good company. The recipes in this book are representative of the laid back and relaxed style in which tapas are meant to be enjoyed... traditionally with a glass of sherry or wine.
---